As we move to a more global audience, online marketing is more important than ever. In Kelowna, a majority of our buyers are coming from other areas of Canada and in many cases other parts of the world.
I have personally dealt with offers that are "subject to viewing," meaning that clients will have an accepted contract with a seller that is conditional of them viewing and approving the property. In a market where properties are selling as quickly as they are, this is a good way to gaurantee that the home they want will still be available when they arrive to town.
This being said, professional photography is a must; but photographs don't show the layout of the home very well. It is hard to do this from a 2D experience. Others turn to video which helps, but areas are still missed. MORE IS NEEDED!
So what is the New Way to View Homes Online?
The new technology used by BUZZ Internet Solutions is immersive Virtual 3D space capability. It creates a 3D experience where one can navigate through the whole property. Much like using google street view.
Buzz Virtual Spaces

is pioneering this new, innovative way to advertise listings. They have just finished this property I have listed. Go to the link here and navigate the platform:

2153 Golf Course Drive West Kelowna
There are 3 ways to view the property: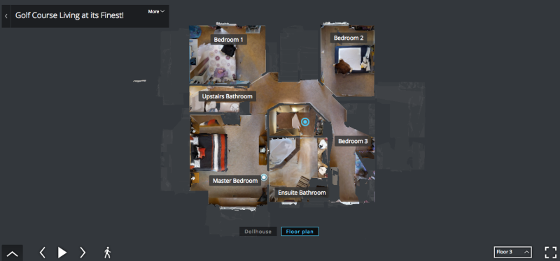 Notes can be added for important features and buyers can click on those notes as they walk through the home.
Step it up a notch and use 3D Goggles to give a realistic walk through of the home!
As an out-of-town buyer, aren't you impressed? If only the entire Real Estate Market did things this way!
If you are interested in selling your home or want to know more please contact David Delorme of Coldwell Banker Horizon Realty at 778-821-3885