I'm sure you keep hearing the Buzz that the housing market in Kelowna is Booming...But Where?
We currently have a shortage of Inventory which is making things more competitive for buyers and in many cases more lucrative for sellers.
Have a look at the graph showing our inventory over the past 3 years. It shows the number of active listings every month.
Can you see the trend?
You can see a big drop year-over-year in the number of listings.
Sorry Buyers, a shortage of supply usually means an increase in price.
If you are thinking about buying or selling in this lovely place we call home you might want to know which areas have seen the biggest increase in price. You may also want to know which types of properties have seen the biggest jump.
If you look at the chart below you can review the sub areas of Kelowna and West Kelowna. You will see the Average Price per single family residence Year to Date in December of 2014 and December of 2015.
Which Areas have seen the biggest jump in Price in Kelowna?
You can see that Crawford Estates, Dilworth Mountain and Wilden have saw significant jumps in price. However, you can also see that in some sub-areas the average home price went down, like in Big White, Joe Rich and Lakeview Heights.
Now, lets have a look at the condo market.
The Chart Below has the Average sold price of Condos in Kelowna and West Kelowna by area.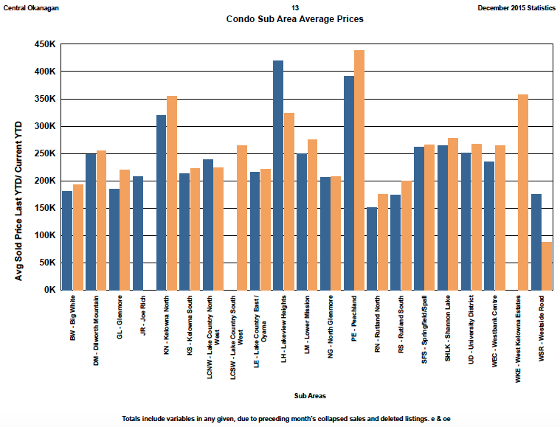 You will see that there have been big increases in average price in Peachland, Kelowna North, Glenmore and Westbank Centre. You will also see declines in Lakeview heights, Westside Road and Lake Country North.
Why are we seeing these changes?
Low interest rates have been a big factor in the recent jump in sales. As they continue to remain low through 2016, we will see if the struggling oil sector will have a negative impact on the market. With huge spikes in home prices in large metropolitan areas like Vancouver and Toronto, Kelowna is being seen as an affordable means to home ownership.
Contact David Delorme of Coldwell Banker Horizon Realty with your Real Estate questions.
All Statistics Provided by the Okanagan Mainland Real Estate Board